Greetings from the Embassy of the Republic of Azerbaijan in Washington, DC. In this edition of the news digest, you will find stories about 4th World Forum on Intercultural Dialogue, the nation's important role in global energy security as well as about Azerbaijan-U.S. and Azerbaijan-Israel relations. To learn more about the Embassy's activities, please remember to like us on Facebook and follow us on Twitter.
President Aliyev: Multiculturalism, ethnic and religious diversity is our history and today's reality
Trend News Agency
"Azerbaijan, for centuries was a place where civilizations and cultures met. Our geography, our history and development in Azerbaijan demonstrate that intercultural dialogue is one of the most important issues," said President Aliyev at the opening ceremony of the 4th World Forum on Intercultural Dialogue. "Our history, our traditions, our geography actually dictated that Azerbaijan could be and should be an area where civilizations meet," the president said. "And for centuries, people inhabited in Azerbaijan, are living in a diverse environment. Multiculturalism, ethnic and religious diversity is our history and today's reality. And we're proud of that. Today Azerbaijan is a multi-ethnic, multi-confessional country, and representatives of all the ethnic groups and religions live in peace and harmony," President Aliyev said.
Statement by H.E. Mr. Ilham Aliyev, President of the Republic of Azerbaijan
UN Web TV
Watch statement by H.E. Mr. Ilham Aliyev, President of the Republic of Azerbaijan at the opening ceremony of the 4th World Forum on Intercultural Dialogue (5-6 May 2017, Baku, Azerbaijan).
Baku Forum: Time to find 'magic formula' for peaceful coexistence, says UNESCO chief
UN News
It is time to find that "magic formula" that will encourage people to live together in peace, the head of the United Nations Educational, Cultural and Scientific Organization (UNESCO) urged at the end of a UN-backed conference on intercultural dialogue in Baku, Azerbaijan. Hundreds of delegates, experts, academics, business and civil society leaders from 120 countries took part in this year's 4th World Forum on Intercultural Dialogue, which aimed at further promoting and sustaining understanding and dialogue within and between cultures. Preventing terrorism in cyberspace, educating girls to combat violent extremism, and changing people's negative perception of migrants in cities were some of the topics broached at the Forum. The agenda also included such topics as the role of faith, religions, human security, sport, education, art, sustainable development, preventing violent extremism, and business in building trust and cooperation among cultures and civilizations.
UN: Azerbaijan contributing to development of intercultural dialogue
Trend News Agency
Azerbaijan makes an important contribution to the development of intercultural and interreligious dialogue, said Nassir Abdulaziz Al-Nasser, high representative for the United Nations Alliance of Civilizations. He made the remarks at a press conference dedicated to 4th World Forum on Intercultural Dialogue in Baku. Nassir Abdulaziz Al-Nasser noted that intercultural dialogue allows achieving peace and reconciliation around the world. "Today, it is very important to show respect for cultural diversity and ensure peaceful coexistence. The Baku process allows creating such a platform. The World Forum on Intercultural Dialogue held in Baku has become an important factor in the modern world," he said.
Peace, human security at forefront of UN intercultural dialogue forum
UN News
The integration of migrants in cities, countering the rise of violent extremism, as well as youth radicalization on the Internet were just some of the issues being discussed at a United Nations conference in Baku, Azerbaijan. The Fourth World Forum on Intercultural Dialogue, hosted by the Government of Azerbaijan in partnership with the UN Educational Scientific and Cultural Organization (UNESCO), provided an opportunity to examine effective responses to challenges facing human security, including massive migration, violent extremism and conflicts. The Forum brought together heads of government and ministers, representatives of intergovernmental organizations, the private sector, policy-makers, cultural professionals, journalists and civil society activists under the theme 'Advancing Intercultural Dialogue – New avenues for human security, peace and sustainable development.' Speaking to UN News, Nadia Al-Nashif, UNESCO Assistant Director General for Social and Human Sciences, said the Baku Forum has a "very strong vision and resonates deeply with UNESCO's mandate to build peace in the minds of men and women." Ms. Al-Nashif said the UN intercultural dialogue is a platform for people to debate the notion of coexistence and what that means in regards to the 2030 Agenda for Sustainable Development that seeks to "promote norms for social justice, advocate for social inclusion, integration, acceptance, and not just tolerance but empathy."
President Aliyev receives chairman of US-based Foundation for Ethnic Understanding
Azernews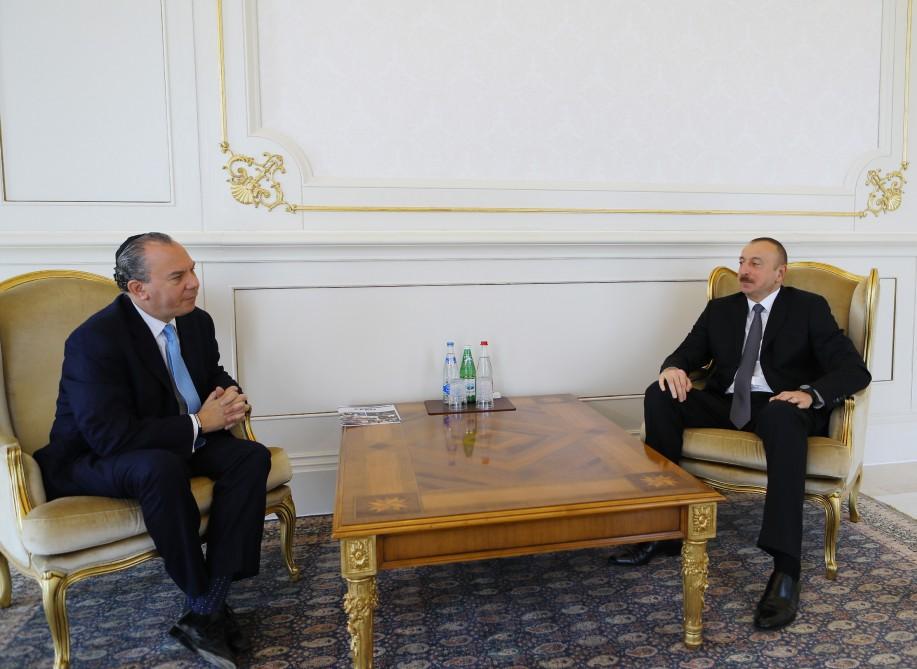 Azerbaijani President Ilham Aliyev received Chairman of the US-based Foundation for Ethnic Understanding Marc Schneier in Baku. They emphasized the contribution of the Baku-hosted 4th World Forum on Intercultural Dialogue to the strengthening of international cooperation. The fact that representatives of different nationalities and religions live in an atmosphere of brotherhood in Azerbaijan was hailed. High tolerance existing in the country was described as an example to the world. They also praised successful development of Azerbaijan-US bilateral relations in a variety of fields.
Ambassador Suleymanov speaks at the National Defense University's Joint Special Operations Master of Arts Program at Fort Bragg, N.C.

Ambassador Suleymanov spoke at the National Defense University's Joint Special Operations Master of Arts Program at Fort Bragg, N.C. on April 12, 2017.
Azerbaijan, U.S. mark 25th anniversary of diplomatic relations
Azernews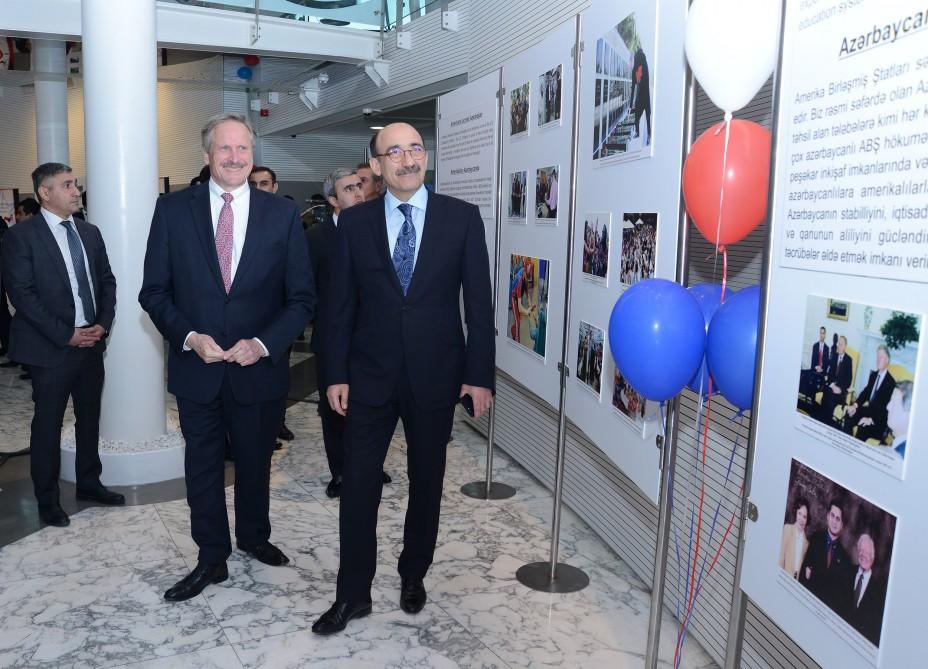 Azerbaijan and the U.S. celebrated the 25th anniversary of establishment of the diplomatic relations with a solemn event at the International Mugham Center in Baku on April 12. A special exhibition organized at the Center featured the history of bilateral ties between the two countries. U.S. Ambassador to Azerbaijan Robert Cekuta, addressing the event, spoke of the history of these relations, noting his country was one of the first to recognize Azerbaijan's independence. "The important thing about the relationship between Azerbaijan and the U.S. has been the people and what they have done together to build a strong relationship, as well as to help make Azerbaijan a strong, prosperous, democratic, independent country," added Cekuta. The ambassador also said the U.S. has been supporting Azerbaijan in diversification of its energy supplies. "We have continued working with Azerbaijan over 25 years and discussing the energy projects to move them forward. These projects are very important for European energy security and global energy security," added Cekuta.
Azerbaijani Minister of Energy Attends U.S.-Azerbaijan Energy Forum in Houston
USACC
Minister of Energy of Azerbaijan Natig Aliyev led the largest ever Azerbaijani delegation to the annual Offshore Technology Conference in Houston, Texas on May 1-4, 2017. The delegation was accompanied by Ambassador of Azerbaijan to the United States Elin Suleymanov and U.S. Ambassador to Azerbaijan Robert Cekuta.
US keeps eye on Southern Gas Corridor's implementation
Trend News Agency
The US is focusing on the implementation of the Southern Gas Corridor project and its support by Washington remains stable and long-lasting, US Ambassador to Azerbaijan Robert Cekuta said. Cekuta made remarks at a meeting with Azerbaijani Energy Minister Natig Aliyev in Baku.
Azerbaijan to buy Boeing-737 MAX aircraft for $1B
Trend News Agency
Azerbaijan's Silk Way Airlines and the US aerospace company Boeing have signed a contract for the purchase of ten passenger aircraft Boeing-737 MAX. The document was signed in Baku on Apr. 14 by President of Silk Way Holding Zaur Akhundov and Senior Vice President of Boeing company Marty Bentrott. The ceremony of the document's signing was attended by the President of Azerbaijan Airlines CJSC (AZAL) Jahangir Askerov and US Extraordinary and Plenipotentiary Ambassador to Azerbaijan Robert Cekuta. Total cost of the contract is about $1 billion.
President Ilham Aliyev congratulates Israeli president on Independence Day
Trend News Agency
Azerbaijan's President Ilham Aliyev has extended congratulations to Reuven Rivlin, President of Israel. "On behalf of the people of Azerbaijan and on my own behalf, I congratulate you and your nation on the occasion of the national holiday of the State of Israel – Independence Day", - Ilham Aliyev told Reuven Rivlin in his congratulatory letter."I believe that friendship and cooperation between Azerbaijan and Israel will further develop and strengthen in the best interests of our nations", - noted the president. "On this remarkable day, I wish you good health, success in your activities, and the friendly people of Israel peace and prosperity", - added the Azerbaijani president.
Israeli PM sends congratulatory letter to President Ilham Aliyev
Apa.az
Israeli Prime Minister Benjamin Netanyahu sent a congratulatory letter to Azerbaijani President Ilham Aliyev on the 25th anniversary of the establishment of diplomatic relations between the two countries. The letter reads as follows:"Israel is proud to have been one of the first nations to recognize the independent Republic of Azerbaijan. In the quarter century since, our countries have built a solid relationship based on genuine friendship between the Jewish and Azerbaijani peoples. Azerbaijan is a model of inter-faith and multicultural harmony in an area fraught with religious and ethnic rivalries. Like you, Israel is a beacon of stability and tolerance in an unstable region. Despite the challenges we face, we have both succeeded in creating thriving economies and vibrant, prosperous and peace-seeking societies. I will never forget the incredibly warm and gracious hospitality you afforded me, my wife and our entire delegation in Baku last December. I believe that the visit greatly contributed to the further expansion of our bilateral cooperation in a variety of areas. The four economic agreements we signed will only help us advance our shared goal of an even stronger partnership. I look forward to continuing to work closely with you in the years ahead and I hope to have the opportunity to welcome you to Israel soon so we can reciprocate your generous hospitality."
The Most Amazing Country You've Never Heard of
Houstonia
Bill Wiatrak writes: "Mention the country of Azerbaijan and you're likely to get a confused look. Much of the western world isn't familiar with this small, petroleum-rich nation and is even less likely to be able to locate it on a map. Information about it is sketchy at best. Take, for instance, my own first thoughts when I first heard of Azerbaijan: that the name sounded like a vaguely Middle Eastern newly-developed country full of goat herders and antiquated Russian buildings. Well, I'm in Azerbaijan right now and I can tell you this: any and all stereotypes I had were completely wrong. The truth is that Azerbaijan is a very interesting place full of surprises, and although it might not have any landmarks you've heard about, it makes a great stop if you're in this part of the world. What part of the world is that? The capital city of Baku is situated on the Caspian Sea, the world's largest saltwater lake, which also borders Russia, Kazakhstan, Turkmenistan and Iran. There's a beautiful waterfront promenade in Baku that boasts a mixture of older buildings interspersed with gleaming modern structures rivaling the architecture of Dubai."
'Inner City' by Azerbaijani filmmaker has won the Gold Remi Award at the 50th Worldfest festival in USA
Azeri America News
'Inner City' by Azerbaijani filmmaker Ilgar Safat has won the Gold Remi Award at the 50th Worldfest festival in Houston, Texas, USA. The film was produced by Azerbaijanfilm Studio named after Jafar Jabbarly. Set in contemporary Azerbaijan, Inner City follows the romance between a young student Arzu, whose dreams reach beyond the primitive ambitions of her peers, and Rafael, a veteran of the Karabakh war with crushed dreams of his own.
Embassy of Azerbaijan Participates in Passport DC 2017
CBC News
The Embassy of Azerbaijan to the United States participated for the fifth time in Passport DC program on May 6. Passport DC celebrates its 10th anniversary in May. The annual festival commemorating International Cultural Awareness Month in the District of Columbia runs from May 1 through 31 with a wide array of cultural activities presented at a record 100+ embassy open houses, multiple street festivals around metropolitan Washington in conjunction with performing arts organizations throughout the city. The visitors at the Embassy of Azerbaijan experienced a full day of live performances, Azerbaijani food, exhibitions, activities, music, dance and more. Silk Road Dance Company performed Azerbaijani dance "Nakhchivan","Nalbaki" and "Arshin Mal Alan" during Passport DC Embassy Tour.
Embassy of Azerbaijan welcomed guests during Passport DC Embassy Tour (Photos)
Embassy of Azerbaijan welcomed guests during Passport DC Embassy Tour on May 6 (Photos).